Recoleta Cemetery
A cemetery among one of the most visited places in Buenos Aires? Why? The
answer, as we walk along the corridors.
Recoleta Cemetery is one of the most famous cemeteries in the world because
of its historic and architectural heritage, as well as Per Lachaise Cemetery in
Paris, France, and Staglieno Cemetery in Genova, Italy. Set in 5.5 ha (14
acres), the place holds around 4900 vaults and mausoleums. Being the first
public cemetery in the city, it is still active and its walls keep a great part of the
history of our country. For that reason, almost 90 vaults were declared National
Historic Monuments.
Let's go back in time to understand why this cemetery was so important. Almost
three centuries ago, the Recollect friars settled in this area and built the Basilica
of our Lady of the Pillar 1732. Even though it is difficult to imagine, this place
was part of the outskirts and in 1822 their vegetable garden was transformed
into the cemetery. At a certain time, it was almost abandoned and about to be
closed, but a complete renovation process was done in 1881 and this way it
became the elite cemetery.
Many wealthy families were living in this area. They had amazing residences
built according to the French architecture, so they wanted to have an equally
important final resting places. Many of the vaults were designed by famous
European architects. Materials were usually brought from Italy, France and
England, so walking along the streets of Recoleta Cemetery makes you feel in
an open-air museum. Even though some of the vaults have fallen into disrepair,
most of them are in good state of preservation.
As we go through the great portico, you will be amazed by magnificent
structures in different styles: Art Nouveau, Art Deco, Neoclassic and Neo-
Gothic, and by magnificent Carrara marble sculptures. Some vaults may seem
a little small, but all of them have one or two basements, therefore they have
more capacity than we imagine. Something to take into account: there are no
more available plots to build new vaults.
​
Alvear's family mausoleum is the first one to be seen once you are inside the
cemetery. Three generations of this family left their legacy in our history: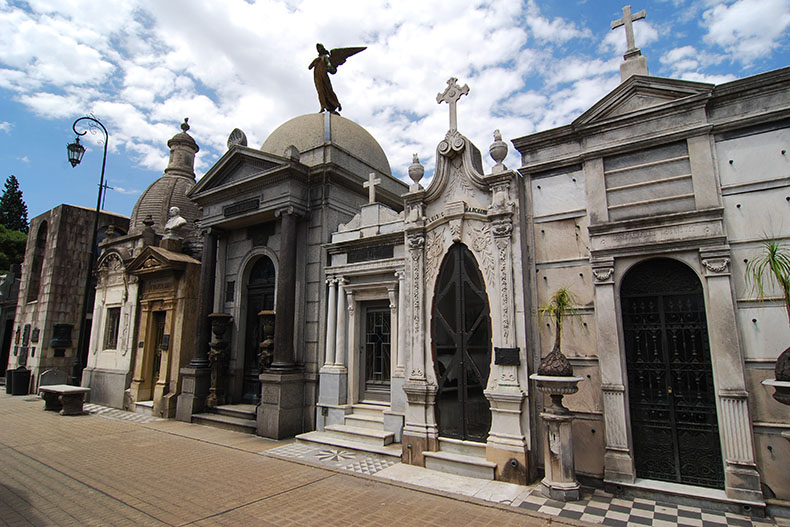 a
general, a city mayor and a president. The main street lined by cypresses will
guide us to the vault owned by the Paz family, crowned by extraordinary
Carrara marble sculptures. The visitor's eye will be also caught by Liliana
Crociati's vault, in Neo-Gothic style. She died after being rescued from an
avalanche in Austria. Her sculpture is guarded by Sabú, her loyal dog..
A quite simple vault is the most visited place in the cemetery by locals and
foreign people alike. We are speaking about the vault owned by the Duarte
family. That is the resting place for María Eva Duarte de Perón, better known as
Evita. She was Juan Domingo Perón's second wife. Her work as First Lady
awakened opposite feelings and this happens even now. It is very common to
find flowers at the door, a proof of affection left by visitors.
It is worth visiting this city of angels, but pay attention to the bells announcing
the closing time so that you don't get trapped by the legends living among these
walls. If you are interested in knowing more about Recoleta Cemetery,
Signature Tours offers you an on-line virtual tour to know its secrets with a tour
guide while you are at home. If you come to Buenos Aires, we offer private tours
to Recoleta Cemetery.
We hope to see you soon!